Pearson Farms, Frisco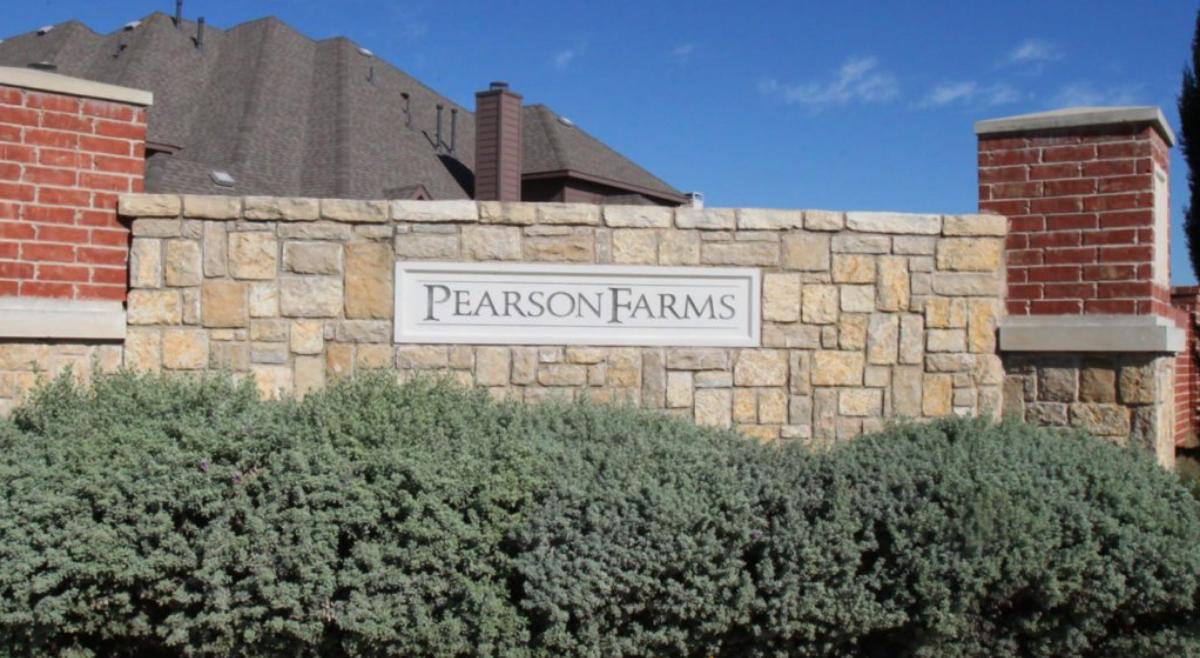 Offering a serene and relaxing environment in sought-after West Frisco, Pearson Farms offers 4,000 to 5,000 square foot homes with an average price from the $400's to $500's.
Neighborhood Amenities
Plentiful amenities include an upscale pool area, fountain, two lakes, park-like green spaces, a playground, and hike and bike trails.
Community spirit abounds in the form of a Spring Yard Sale, Eggstravaganza, July 4th Parade, Fall Festival, and Holiday Decoration Contest.
Convenient to Corporate and Retail
Pearson Farms is located north of Stonebrook Parkway along Teel Parkway. Providing a small-town feel combined with proximity to big-city amenities, the neighborhood is within easy reach of a wide variety of shopping and dining options. A short drive away, Stonebriar Centre offers both high-end and mainstream shops. Adjacent to the Mall, IKEA provides access to Scandinavian-style furnishings.
Neighborhood Schools
The community is zoned within the Frisco Independent School District with neighborhood children attending Nichols Elementary, Pioneer Heritage Middle School, and Reedy High School.
Frisco Overview
Frisco, located 28 miles north of downtown Dallas, is one of the most desirable suburbs in the DFW Metroplex, with a 300% population growth rate between 2000 and 2014. The city of 136,000 has received honors such as Best Place for Young Families in Texas (nerdwallet.com, 2014), America's Friendliest Towns (Forbes, 2012), Best Cities for First-Time Home Buyers (wallethub.com, 2014), Best Mid-sized Cities for Education in America (movoto.com, 2015), and Tree City USA.
High-Performing Schools
Frisco I.S.D., home to 50,000 students, has a mission "to know every student by name and need." More than 90 percent of Frisco high school graduates go on to higher-level education. The district has received distinctions such as Best Communities for Music Education and 100 Best Communities for Young People.
Premier Recreation
Frisco is home to a number of premier sporting venues including Dr. Pepper Ballpark (home of The Frisco Roughriders) and Toyota Stadium (home of FC Dallas). The Star, Frisco's new 12,000 seat stadium, is set to become the practice facility for the Dallas Cowboys.
The City also proves desirable for fitness and nature enthusiasts. It boasts 1,369 acres of developed park space (and another 744 acres of land marked for future park development), 56 miles of hike and bike trails, and 3 golf courses.
Frisco embraces its rapid growth without relinquishing a feel of a close-knit community with events like the Frisco Freedom Fest, an action-packed festival held over the Independence Day holiday. And Christmas in the Square blankets the downtown square in "snow," creating a magical winter wonderland each December.
---